メインシアター(東5ホール会場内)
2019年1月31日(木)
【特別シンポジウム】Graphene Special
【開催時間】12:00-12:50
Physics and applications of 2D materials
12:00-12:20 日英同時通訳(同)

Manchester University
Prof. Kostya Novoselov氏
【講演者プロフィール】
Professor Sir Konstantin 'Kostya' Novoselov FRS was born in Russia in August 1974. He is best known for isolating graphene at The University of Manchester in 2004, and is an expert in condensed matter physics, mesoscopic physics and nanotechnology. He was awarded the Nobel Prize for Physics in 2010 for his achievements with graphene. Kostya is Langworthy Professor of Physics and Royal Society Research Professor at The University of Manchester.
He graduated from The Moscow Institute of Physics and Technology and undertook his PhD studies at The University of Nijmegen in the Netherlands before moving to The University of Manchester in 2001. Professor Novoselov has published more than 250 peer-reviewed research papers.
He has been awarded with numerous prizes, including the Nicholas Kurti Prize (2007), International Union of Pure and Applied Science Prize (2008), MIT Technology Review young innovator (2008), Europhysics Prize (2008), Bragg Lecture Prize from the Union of Crystallography (2011), the Kohn Award Lecture (2012), Leverhulme Medal from the Royal Society (2013), Onsager medal (2014), Carbon medal (2016) and Dalton medal (2016), among many others.
Technology Validation of Graphene and other 2D Materials
12:20-12:35 日英同時通訳(同)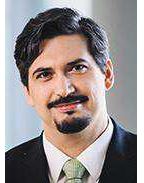 National University of Singapore
Prof. Barbaros Özyilmaz氏
【講演者プロフィール】
Barbaros Özyilmaz received his Diploma in Physics in 1999 from the Technical University of Aachen, Germany and his Ph.D. from New York University, USA in 2004. During his Ph.D. he has developed jointly with IBM. Spin transfer torque magnetic access memory, an emerging technology for high speed magnetic data storage. After his Ph.D. he has worked with Professor Philip Kim at Columbia University as a postdoctoral research fellow and made pioneering contributions to the field of graphene. In 2007 he has joined the NUS Physics Department as an assistant professor and has helped establish the Graphene Research Centre. He has published widely in this emerging field, filed numerous patents and is the recipient of awards such as the NUS Young Research Award and the NRF Fellowship. In 2014 he has been appointed Head of Graphene Research at the recently funded Centre for Advanced 2D Materials.
Graflow: Process Technology for High Performance Graphene Composites
12:35-12:50 日英同時通訳(同)

Grafoid
Mr. Andy Zhou氏
【講演者プロフィール】
Andy joined Grafoid in June 2017 to serve as the Company's technical bridge between customers and our engineering and research teams.
In this role, he supports Grafoid's sales and marketing team by delivering technical presentations to prospective customers and through collaboration with customers' technologists in matching end user application needs and requirements with our graphene technologies.
Andy earned his M.Sc in Material Science and Engineering at the University of Toronto and his B.Sc in Nanotechnology Engineering at the University of Waterloo.